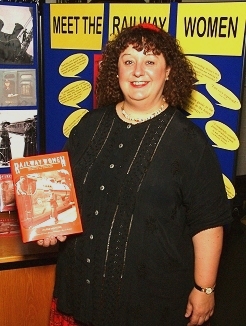 Helena signing copies of 'Railwaywomen'
at the National Railway Museum see more ...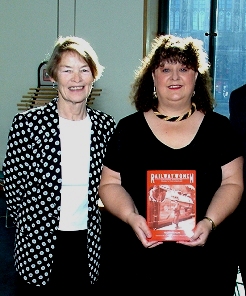 Glenda Jackson MP at the launch of
'Railwaywomen' at the House of Commons see more...
A coach named "Helena" at the
Paignton and Dartmouth Steam Railway
HELENA WOJTCZAK
An award-winning author and publisher

The holder of a BSc Honours degree in Social Science and Social History, Helena Wojtczak is a researcher, writer and speaker on women's history.
She has been an associate tutor in women's history and the methodology of research for the University of Sussex and the University of Brighton.
She occasionally gives public talks and lectures and speaks at conferences at universities and museums. Her most recent lecture was at New Scotland Yard in December 2014.

She has written for the Oxford University Press, Ashgate, the TSSA, the RMT and Hunter House Publishing, as well as numerous newspapers and history magazines, and also for various websites including The Victorian Web and Encyclopaedia Titanica, and has appeared on TV and BBC radio. Her next TV appearance will be on "Coast" in 2015.

Her books have received critical acclaim from Dr Dale Spender, Dr Gerry Holloway, Dr Gillian Reynolds, Dr Jo Stanley, Dr Terry Gourvish, the Rt Hon. Tony Benn MP, Glenda Jackson MP, Michael Foster MP, New Statesman, Morning Star, Labour Research Magazine, Steam World Magazine, the president of the RMT, Women's History Review, Gender, Work and Organisation, The Argus, Sussex Express, Open History Magazine, Backtrack, the British Association for British History, Ripperologist, Christian Wolmar, Adrian Vaughan, Ray Hatley and many others.

Railwaywomen won the joint Writers' News Magazine / David St John Thomas Charitable Trust Award for Best Non Fiction Book and the Silver Cup and prize for Self-Published Book of the Year. Notable Sussex Women won the prize for the Best Local Book, 2009. Jack the Ripper at Last was shortlisted for the Silver Cup but was pipped at the post.


Books (sole author)

Jack the Ripper at Last? (2014)
Notable Sussex Women (2008)
Railwaywomen (2005)
Women of Victorian Sussex (2003)
Women of Victorian Hastings (2002)
Notable Women of Victorian Hastings (2002)

Books (contributor)

Damcoupe Vaimovaen-Osasto Naisia (University of Helsinki, 2010)
Gendered Journeys, Mobile Emotions (Ashgate, 2009)
The Oxford Companion to British Railway History (Oxford University Press, 1999)


Websites

Women of Hastings Past
A Century of Railwaywomen 1900~2000
British Women's Emancipation since the Renaissance


Railways

At the age of 19 Helena became the first woman employed as a guard by British Rail. Read about her experiences of being a woman recruited and trained in a male industry here.
Working on the railways led her to research and write the award-winning book Railwaywomen. Since being launched at the House of Commons, at the TUC Conference and at the National Railway Museum. The book has received considerable acclaim including a plethora of excellent reviews.

Now Britain's foremost authority on the history of women working on the railways, she has acted as a consultant historian to the National Railway Museum and gives illustrated presentations on the subject, including the Swedish State Railway Museum, the University of Helsinki, and London Transport Museum.
Personal

Born in Sussex, Helena Wojtczak (pronounced 'Voy-t-chak') lived in London for twenty-two years and is now happily back in her native county. Her pet hate is being called "Helen".
Politics
Helena is a humanist and feminist, of the far left persuasion. The only political party she has been a member of is the Green Party, to which she was a elected conference delegate. She is a great admirer of some Labour MPs, and was associated with Labour for many years during her trade union membership and activism. She held various elected positions within the NUR and RMT unions.
Publishing

Helena owns the Hastings Press, a small, independent book publisher. She has run several public seminars on self-publishing but advises individual authors only by private consultation. She also freelances as a book editor and proofreader, working for larger publishing companies.
Home page
email Helena