What readers have said...

"A work of energy, enthusiasm and expertise."

"Another brilliant piece of work!"

"Contains something of interest for everyone."

"A fascinating mine of information."

"Feast upon the forgotten pages of women's history."

"The missing volume that our county has been waiting for."


---
Among the 580 outstanding women featured are...



a suffragette who torched an MP's house



a woman who climbed and perished on K2



a Gaiety Girl who became an MP



a female colonel who married a woman



the inventor of the A-Z



a lady who proved the earth was flat



a white woman who led a protest march of 20,000 black Africans



the first female pilot to fly Halifax bombers



the wealthiest prostitute in London



the first celebrity ballroom dancer; the first TV chef



the first Englishwoman to swim the Channel



the first heroine to receive the Military Medal
... and 568 more!

---
REVIEWS
This is a fascinating book. To look up some familiar or half-familiar name among the 580 biographical sketches offered is to be drawn irresistibly into a web of lives, some connected by personal ties, others by common interests, all of them distinguished by energies and talents and some of them of the utmost distinction. The range and achievement of the women of one county laid out here fully justifies the editor's intention to bring into the open a record of women's works which have been commonly disregarded in male-oriented histories. Well-judged sub-divisions and cross referencing make the book, as is claimed, both informative and accessible while the many photographs are a source of special pleasure. Extracts from contemporary newspapers add further depth to the scene as do sections at the end which fill in more of the social background against which the women lived their lives. This is a work of energy, enthusiasm and expertise and, as a consequence, a source of both pleasure and illumination.

Joan Rees, Professor of English Literature

---
Interesting and informative. A very well researched book which contains a fascinating mine of information. An excellent publication and a must-have for local interest and anyone interested in the social development of women in Britain.

Connie Evans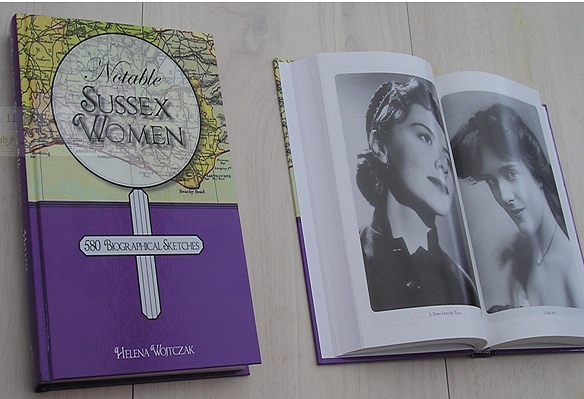 NOTABLE SUSSEX WOMEN

by HELENA WOJTCZAK


WINNER of the WRITERS' NEWS BEST LOCAL BOOK PRIZE
---
Hardback
ISBN 978-1904-109-150
580 women ~ 170 towns ~ 304 pages
32 pages of gloss plates containing 63 photos

Books can be signed by the author
to your exact requirements.

---
RRP £19.99

SPECIAL OFFER HALF PRICE £9.99

To avoid postage costs, books can be collected from the publisher's office in central St Leonards - email us for the address.

To purchase via Paypal for £12.99 (£9.99 plus £3 postage) click the "Buy Now" button below.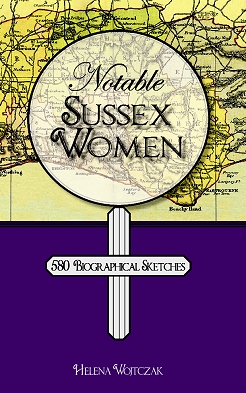 The Hastings Press has been verified by Paypal
and holds approved business account status.




REVIEWS

Notable Sussex Women is truly amazing, a tribute to the indefatigable energy of Helena Wojtczak. The first thirteen pages of the book have a clearly written and immensely readable précis of the difficulties faced by women in their long struggle for emancipation in a hostile masculine world and this section has over two dozen well chosen marginal quotations from well known figures.

In short, this book contains something of interest for everyone, and should grace the bookshelves of not only those interested in social history, or of Sussex, or of women's fight for emancipation, but also of those interested in exploration, or any of the myriad occupations and hobbies of these notable women.

Peter Leyel
---
You might not know that Worthing Borough Council's website lists not one late famous woman inhabitant. Helena Wojtczak knows better, depositing a great deal of writer's egg on its digital pages, she can come up with an astounding total of 31 notable women who lived in that dusty town on the salty coast of West Sussex.

Notable? A regiment of women from Sussex have graced the stages and silver screens of their time, clocked up astronomic academic distinction, tossed off novels and paintings, at the flick of a widely brimmed hat, founded dissenting churches and served prominently the uniformed forces. A grand total of over five hundred mini biographies of assorted women of Sussex are deliciously laid before the reader in this classy and easily digestible book. Stuffed with sumptuous plates of faces and places, there cannot be a single village or town in Sussex without a notable woman having once lived there, this book is a must for armchair feminist archaeologists to feast upon the forgotten pages of women's history. The author also serves us a succinct history of the 60 years that it took to get women the parliamentary vote, an illuminating table of the decorations that sat so chunkily upon so many firm bosoms, and a basketful of fascinating snippets carved from newspapers long recycled.

Notable Women of Sussex is the missing volume that our county has been waiting for.

Val Brown
---
Helena Wojtczak has done it again, another brilliant piece of work! The book begins by commenting on the artificial absence of women in most writing of history, and then puts notable Sussex women into context. This introduction gives a nutshell analysis of what was (and in many ways still is) going on with women, straight and clear to the heart of the matter. Besides a short review of our social position in the past two centuries, this section touches on core political, social, psychological and philosophical points behind the lives of the women the book lists. The book then goes on to lift 580 women's lives out of the obscurity male historians have left them in.

She writes in a cheerful and matter-of-fact style, nevertheless indignation overtakes me as I read. Why don't we already share this as common knowledge? I'm left amazed at (and encouraged by) the energy, the creativity, the resourcefulness, and the persistent generosity of many of the women sketched in this book.

In a nutshell, this book is more than just a collection of sketches of interest to locals and local historians. As you graze through the short biographies (after reading the truly brilliant introductory sections), a picture of the times emerges, of the terrible and less terrible obstacles women met, of the ways they nevertheless participated and contributed importantly to the age they lived in. Though the book only deals with the interesting women in a tiny part of the world, it makes a major contribution to dismissing the myth that women have been unimportant in history and in shaping the best, most humane and/or interesting aspects of the world we live in now.

Alexandra Semyonova