READERS' COMMENTS
"Thirty three deliciously dark tales of murder, misery and misfortune befalling Hastings residents and visitors from 1804 to 1948...I read the book in one open-jawed, bug-eyed sitting...An entertaining and thoroughly researched book...I absolutely bloody loved it" Joel Griggs, proprietor of the True Crime Museum
"Excellent read, well researched stories of macabre happenings around Hastings, from 1804 to 1948. Really interesting to find out more about the previous uses of buildings etc. Highly recommended book for Hastonians and visitors alike.." Amazon reviewer Paul W.
"Serious social history told in an entertaining, informative, and thought-provoking way. With the skill of a pathologist, the author peels back the skin on these deadly stories to reveal the human dramas behind the 'strange exits'...All readers will find something to enjoy in this fascinating dusty attic of a book. No better account exists anywhere of the dreadful Mary Ann Geering murders...There are also several unsolved murder cases where the author turns sleuth, cracking mysteries like a fearless and groundbreaking Victorian lady detective. Her unravelling of the Bopeep Railway Tunnel murder of 1891 is breathtakingly good, and one of the many highlights of this superb book."Ripperologist magazine, June 2020.
"Factual, captivating, enthralling read, well researched, will read again in the winter." Amazon reviewer
"Researched with diligence and care...the stories are unique and intriguing. It would have been easy to sensationalise these seemingly far-fetched accounts, but there's a gentle humility, tenderness and even kindness in the way the stories are presented.
I confess I inhaled it in just one sitting. The characters are so fascinating they tumble out of the pages and jostle for position in the forefront of your mind." Elly Gibson, Hastings Independent Press full review here.
"A gem of a book... full of detail and illustrated throughout with photos, maps and illustrations of the time. A highly recommended read." Amazon reviewer Stephanie
"Brilliant and entertaining... a fantastically well-researched and beautifully-composed book, which will keep you enthralled to the very end."Amazon reviewer Gary.
"Loved this book from the intriguing front cover to the many strange goings on in Hastings in days gone by. In a macabre way I just wish there were more stories as it was such an enjoyable read." Amazon reviewer Frances.
STRANGE EXITS FROM HASTINGS

A Cornucopia of Bizarre Deaths and Unsolved Murders
~ Volume 1 ~

---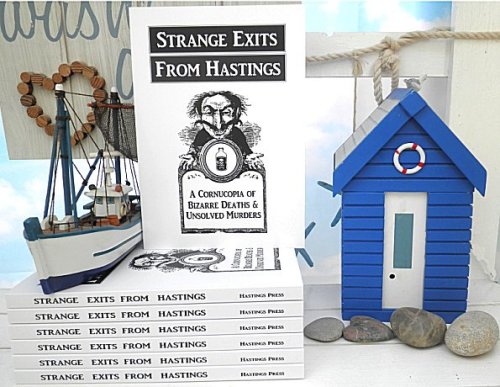 ---
Click here for VOLUME 2
---
Strange Exits from Hastings is a unique fusion of local history and true lives and deaths; a cornucopia of forty unsolved murders, bizarre accidents and inexplicable acts of self-destruction.

Each intriguing chapter is based on a true story from the newspaper archives, meticulously researched, diligently re-examined and expertly retold by an author with a passion for the past.

Eavesdrop on courtroom dramas; speculate on the secrets of the dead, join the author in solving cases that baffled police, and discover how cliffs, lifts and liniment, a spade, a spoke and a strainer, a fish, a goat and a polar bear were involved in despatching people to the grave.
---
Published 2020. ISBN 978-1-904109-36-5.
Paperback, 194 pages. Price £10 plus £2.0 P&P

HOW TO BUY
Collect from the publisher's office in central St Leonards - email us for the address.

Mail order. Choose the first 'Buy Now' button to order Volume 2 or the second one to order both Volume 1 and Volume 2 together (saves on postage!)

Select your location and click the 'Buy Now' button below.




TO BUY VOLUME 1 AND VOLUME 2 TOGETHER



The Hastings Press has been verified by Paypal and has held its Approved Business Account status since 2002.

Any queries? Email us
READERS' COMMENTS
"Some of the tales are funny, some are gruesomely horrific, but all are intriguing and memorable. Under normal circumstances this would be a best-seller in bookshops in the local area and would make good presents." Hastings Online Times full review here
"An absolute delight to read, so interesting and researched impeccably. To find out more of the dark history of my hometown is both intriguing and thought provoking! Excellent!"Amazon reviewer Kate.
"A fascinating dive into the darker side of Hastings. A compelling and addictive read. Highly recommended." Amazon reviewer Paul Kennard.
"Absorbing from start to finish; the author has gone into superb detail and her research has been flawless. We've learnt heaps of things we never knew about Hastings & St Leonards. A must for those who have a passion for local history and mystery! The perfect marriage beautifully crafted and woven into this perfect gift of a book. You will not be disappointed!" Amazon reviewer Steve Dadson.
"Written with an elegance and panache rare in the field of popular history...painstakingly researched, lavishly illustrated... A more compelling read I have not come across in a long while." Eric Bond Hutton.
"From the quirky, "steam-punk" style cover to the "historical digressions", this book is full of delightful surprises...a truly absorbing collection of weird and outlandish ways that people were dispatched from Hastings into the afterlife." Amazon reviewer Ray.
"Helena tells these stories with a researcher's eye for detail. She wastes no words and there are no fanciful passages, so every page is packed with detail. From the opening goat-attack (which gored a soldier through his scrotum) to gruesome deaths on the railway lines, it's a real gem of a book... a rattling little read and features some great photographs too, which allows comparison with our modern town." Tony Harris, Facebook