BESSIE RAYNER PARKES (1829-1925)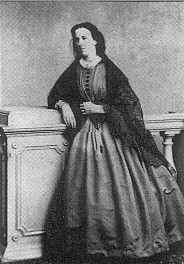 Bessie Rayner Parkes was a great-granddaughter of the political theorist, philosopher and father of modern chemistry Joseph Priestley. In early 1846, when she was sixteen, her family moved from Birmingham to 6 Pelham Crescent, on Hastings seafront, where for four years they were tenants of Benjamin Leigh Smith, who lived at no.9. Smith's eighteen-year-old daughter Barbara soon became her best friend.
The teenagers educated themselves in literature and philosophy and often discussed the deplorable way women's lives were constricted legally, educationally and professionally. In 1848 Bessie wrote: 'Don't you wish you were a Man! Sometimes I do, and sometimes I am glad I am a woman that I may help to push on my own sex'. Thus began her eventful decade as a campaigner for women's rights, during which she made several friends of note with Hastings connections, among them Adelaide Procter, Christina Rossetti and Mary Howitt. In 1850 their extraordinarily liberal fathers allowed them to travel abroad together unchaperoned.
Bessie's family came to Hastings because her brother was ill, and soon after he died there in 1850 they returned to London. The 1851 census shows Bessie (Elizabeth R. Parkes) as a 'visitor' staying with Barbara's family at 9 Pelham Crescent.

Excerpt from
In a Walled Garden.
In the next year, 1845, the Howitts went to Hastings, and formed a close intimacy with a family with which my parents and I were also shortly to be tenderly and gratefully associated: that of Mr. Benjamin Smith, the member for Norwich. A great domestic affliction caused us to take up our residence in Hastings--where, indeed, we were Mr. Smith's tenants - and until July, 1850, we were almost as one family, sheltered under the magnificent rock of the Castle Hill.

Hastings was not then what it is now; the old town was widely separated from St. Leonards, and the lanes leading up to Ore Church were lanes of deep country seclusion. It was here, in 1846-7, that I first heard of the Howitts as a family. Mrs. Howitt's tales and poems had, of course, been familiar to me from early childhood, more especially the exquisite "Sketches from Natural History," containing that ballad beginning "Will you walk into my parlour, said the Spider to the Fly," which has become so much a classic phrase that I have seen it quoted in prose in a political leader, without any reference to the authoress, or to the fact that the quotation formed part of a verse.

If on the one hand we were all full of the distinguished authoress, and her charming eldest daughter Anna Mary, on the other hand here is Mrs. Howitt's allusion to the Leigh Smiths, which will explain a reference in one of her future letters to me. She describes the group of five, of whom the eldest was then eighteen, and the youngest twelve; speaks of their carriages and horses, and outdoor life, and of how "Every year their father takes them a journey. He has a large carriage built like an omnibus, in which they and their servants can travel and in it, with four horses, they make long journeys. This year they were in Ireland, and next year I expect they will go into Italy. Their father dotes on them. They take with them books and sketching materials; and they have every advantage which can be obtained them, whether at home or abroad. Such were and are our friends the Leigh Smiths, and thou canst imagine how much pleasure we were likely to derive from such a family."

In 1855 "Anna Mary and Barbara" go off to Hastings, and get lodged in Clive Vale Farm, [Ann Samworth's] the place where Holman Hunt had painted his famous picture of the sheep upon the downs. He had made a great mess with his oils upon a certain table, which gave pleasure to the artists who were following in his footsteps!

The first letter which I find I have preserved of Mary Howitt's is dated from this residence, on the West Hill, where they remained many years. It is of December, 1858, and is addressed to my mother, at a moment when I was lying in imminent danger of death. It is too personal for quotation, and I pass on to Good Friday of the year 1865, when Mrs. Howitt writes from West Hill Lodge about a Sussex Guide of mine which she had in her possession. She is about to go to Switzerland, but "that is only perhaps." The note ends thus:--"How the budding leaves and all the amenity of this lovely springtime recall Scalands and those pleasant woods to my mind." She refers to a time which really gave me my last living memory of dear Mary Howitt, though our intimacy may truly be said to have lasted unbroken to the weeks immediately preceding her death, five and twenty years afterwards. I shall ever remain grateful for those spring weeks of 1864, when William and Mary Howitt were living at Scalands Cottage, the English home of Miss Leigh Smith, who had become Madame Bodichon. It was in the April of that year that I met Mrs. Howitt on the platform of the Robertsbridge station. I was going to a kind friend at an old farmhouse known as Brown's, and the Howitts were at Scalands, of which she writes: "Barbara has built her cottage upon the plan of the old Sussex houses, in a style which must have prevailed at the time of the Conquest. It is very quaint, and very comfortable at the same time." And she gives lovely pictures in her letters of those "purple woods of Sussex," then blue with the wild hyacinth, in all the inexpressible tender beauty of the spring. It was there that I was privileged to enjoy my last conversations with Mary Howitt."
Bessie and Barbara began to write articles, some of which were published in radical journals and newspapers, including the Hastings and St Leonards News. She started to speak and write about women's issues and in 1854 published Remarks on the Education of Girls, which advocated women's participation in public affairs. In 1855 Bessie and Barbara formed the first committee whose intent was to campaign against the dire legal position of married women. They collected signatures for a petition supporting a Married Women's Property Bill. The Bill failed but the campaign continued and was eventually successful.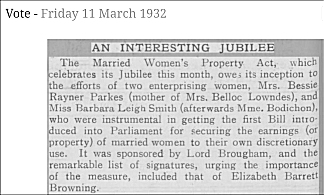 Bessie wrote a few articles for the Waverley Journal which was, most remarkably, edited and published by ladies. She co-founded The English Woman's Journal in 1858 and was its editor. The magazine focussed on education, emigration and employment, giving space to those who believed women should be allowed into higher education and to train as doctors; (there was nothing about women's suffrage, which was too revolutionary to be contemplated).
The shilling subscription included the use of a reading and meeting room at its offices at 19 Langham Place. Later a women's employment bureau, reading room, clerical school and the Victoria Press (staffed entirely by females) were appended. With the addition of a coffee shop, it soon became a Mecca for feminists, who became known as the Langham Place group.
Read Bessie's editorial 'A review of the last six years' , in the English Woman's Journal of 1864.
After six years the journal's owners' and contributors' religious and political differences destroyed it. Bessie continued to publish pamphlets. In Essays on Women's Work (1866) she argued that English laws were based on the supposition that all women were supported by husbands or fathers, when in fact this was not the case: the census showed that one-third of the workforce was female. Miss Parkes argued that girls needed education so they did not have to be restricted to governess or needlewoman. For their time, these were radical views. Miss Parkes was a poet but, spending so much time and energy on women's rights she had made only a modest start. A collection of poems, published in 1852, was well-reviewed, and Summer Rambles and other Poems (1854) followed.
In 1866 Bessie and Barbara (by then Madame Bodichon) and their sister campaigners formed the first women's suffrage committee. They organised the first-ever petition of women asking for the vote, collecting 1,500 signatures in a fortnight. John Stuart Mill presented it to the House of Commons on their behalf. It was, of course, doomed to fail, but it was successful in three important ways. Firstly, it identified which women were interested in politics and in women's emancipation. Hitherto, there had been no way of identifying which individual women had such thoughts. Secondly, it incited those women who were approached to think about the subject, which was so revolutionary that many (if not most) had never given it a moment's consideration. Thirdly, the publicity it generated put women's rights onto the political agenda.
Some of her writings were brought together, dedicated to the memory of Anna Jameson and published in 1865 as Essays on Woman's Work.
Throughout her feminist decade Miss Parkes had been engaged to her cousin Samuel Blackwell. Why the marriage was repeatedly postponed is a mystery, but when she became a Catholic in 1864 it was formally cancelled. She declined a proposal from the blind Henry Fawcett, Liberal MP for Brighton (who married Millicent Garrett, later the leader of the women's suffrage movement).
In the spring of 1867 Bessie and Barbara holidayed together in France. Here they met thirty-seven-year-old barrister Louis Belloc, a semi-invalid. Despite Barbara's strong opposition, Bessie married him in September, leading to a complete estrangement between the two women. Bessie's Catholicism, her marriage and her living in France completely destroyed her feminist beliefs.
Mrs Belloc had her first child at thirty-nine and her second two years later. Her children's births coincided with her publications La Belle France (1868) and Peoples of the World (1870). After living in France for five years, they fled to London during the Franco-Prussian War of 1870~1 and can be seen here living in Westminster in the 1871 census.

In 1872 Louis died of sunstroke, leaving Bessie a penniless widow with two small children.
In widowhood Mrs Rayner Belloc resumed some of old friendships, and was reconciled with Madame Bodichon. A small inheritance from her uncle Josiah Parkes supported her for a few years, but in 1877, an unwise investment caused her financial near-ruin, and she had to live with her mother in London. At the suggestion of Lady Georgiana Fullerton (see page xx) she rented Slindon Cottage (now The Dower House) and later, being unable to afford the rent, downsized further to Newlands on Church Hill, renaming it The Grange, then moved to Gaston Cottage. Sadly, in 1889 Mrs Belloc's bankruptcy was publicly announced in The Times.
Her poverty was ameliorated by the publication of articles and volumes of essays, which she executed well into her dotage. 'In a Walled Garden' (1895) and 'A Passing World' (1897), collections of reminiscences and historical sketches, contain autobiographical information and her last collection of poems, 'In Fifty Years', was published in 1904 when she was seventy-five.
She died at her home in 1925, aged ninety-five, and was buried in the churchyard of the nearby St Richard's Roman Catholic church.
Both of Bessie's children became famous: her daughter was the novelist Marie Belloc-Lowndes; her son the writer and MP Hilaire Belloc. Ironically, he strongly and publicly opposed women having either education or the vote.
Marie wrote a biography of her mother's married life, 'I too have lived in Arcadia: a record of love and of childhood', published by Macmillan in 1941. Her planned second volume, 'Before she found Arcadia', was unfinished when she died. Her daughters Elizabeth Iddesleigh, Dowager Countess of Iddesleigh, and Mrs Susan Lowndes Marques took over the project but did not finish it, passing it instead to a professional biographer, Margaret Crompton, but the families were dissatisfied with the result and declined to publish it.
Copyright 2020 Helena Wojtczak
Girton College holds 18 archive boxes of Bessie Rayner Parkes's personal writings, diary fragments, correspondence and newspaper cuttings.