Elizabeth Blackwell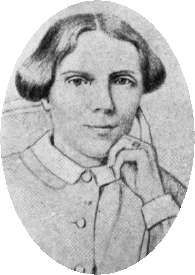 Elizabeth Blackwell (1821-1910) was the first woman in the world to qualify as a physician. She lived in Hastings from 1879 until her death.
Elizabeth was a cousin of Bessie Rayner Parkes. She was born in Bristol, but her parents moved to the USA, where she studied medicine - despite immense opposition from men. In 1849, ranking first in her class of 150 students, she became the first woman in the world to qualify as a doctor. There are many biographies of her life (some are online) and rather than duplicate them, for this site I will focus mainly on her life in Hastings.
She left the USA and returned to England, living initially in London, where she befriended Barbara Bodichon. In 1879 she settled permanently in Hastings, where she lived at Rock House, Exmouth Place, with her adopted daughter Kitty Barry. Whilst living here, she co-founded the Moral Reform Union and opened a local branch, and wrote several books, including The Human Element of Sex (1884) and Pioneer Work in Opening the Medical Profession to Women (1895). Dr Blackwell wrote to the Hastings & St Leonards Observer about conservation, the environment, the East Hill railway and the tramways. She attended public meetings about local issues, stood (unsuccessfully) for the Board of Guardians and fought (unsuccessfully) against Hastings Grammar School's policy of excluding girls from scholarships.
On 29th August 1883 Dr Blackwell chaired a meeting of the National Society for Women's Suffrage in the Assembly Rooms above the recently-opened Queens Avenue arcade. The room was full of people wishing to hear the lecturer, Miss Henrietta Müller, a member of the London School Board, give her speech 'Woman, her Relation to Church and State' (she has a Wikipedia entry here). Dr Blackwell gave the opening address, saying she had always given her mind to the training of women, which she thought was a very important question that took up most of her time, and, consequently she had not left any to take up the suffrage question. As a result of this meeting, on 17th December, at a house in Cambridge Road, a local branch of the National Society for Women's Suffrage was formed, with Miss Fricker Hall proprietor of Bonham House School, Pevensey Road, as honorary secretary.
Between 1891 and 1893 Dr Blackwell bought for her sisters Anna and Marian adjoining semi-detached houses in Dudley Road, called Sunnyside and South View (no.s 21 and 23). Anna was another interesting woman; she was a journalist, poet, translator and pioneer spiritualist, who had signed the Married Women's Property Act alongside Barbara Bodichon and other notable women in 1856 and who was a close friend of Matilda Betham-Edwards. Marian died in 1897 and Anna in 1900.
Dr Blackwell died at Rock House in 1910. Her memorial service was held at St Clement's church but she was buried in Scotland.
In 1914, when Hastings held a Pageant of Heroes, a long procession of girls and women marched to Rock House, where suffragist leader Millicent Garrett Fawcett unveiled a memorial plaque. In 1952 Dr. Effie Evers, wife of the rector of Guestling, upturned a white marble slab that lay in her pantry, which had been used for years for rolling out pastry, and discovered it was a commemorative tablet inscribed to Elizabeth Blackwell, with just the barest information and the Hastings Coat of Arms. The riddle of how and why it came to be there is, as yet, unsolved. One possibility is that it was created by a stonemason's apprentice as a training project. The Guestling Tablet, as it was known, was donated to the Royal Free Hospital in London where in 1953 it was set into the archway to the dean's office.
Copyright 2020 Helena Wojtczak