THE SECOND WORLD WAR
TRACK WORK
---
Read track workers' reminiscences

Mrs. Lovsey, points oiler at Woodford, LNER, oiled four marshalling yards
and the junctions with the LMS and GWR. This included about 300 sets of points
over 90 acres, which she traversed every day carrying an oval oil bucket
and a long-handled brush.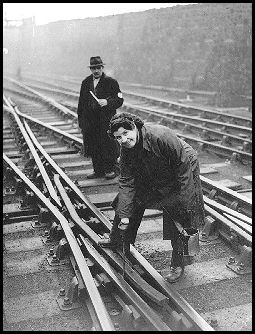 Points Oiler, Middlesbrough 1941.
&nbsp
"I had to climb signal gantries and use "arm oil" to clean the signal arms
and the signalman would tease me by waggling the signal arm up and down.
To oil the signalling system I had to walk through the tunnels stepping from
sleeper to sleeper and holding a stick against the walls. If a train came
I would step into a recess in the wall and wait for it to pass at high speed.
My linesman would put his arms outstretched across me to prevent my being
sucked in by the rush. Sometimes I got a ride on an engine and had a go
at stoking the fire. They were happy days."
Evelyn Mack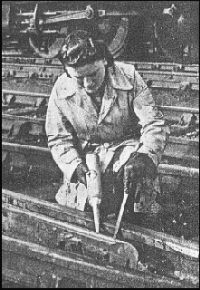 Great Western Civil Engineer's points oiler, c.1942.
&nbsp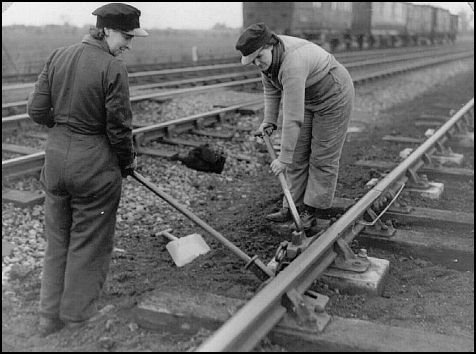 Trackwomen at Darlington, tightening the bolts, c.1944.
&nbsp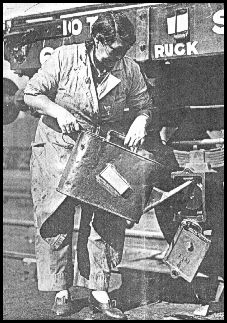 Mrs. Phelps oiling a truck, SR 1942.
&nbsp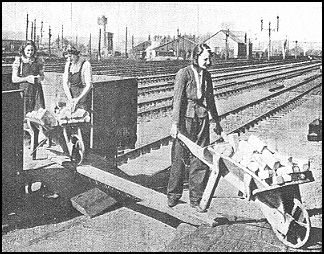 GWR Civil Engineering labourers unloading permanent-way stores, c.1943.
&nbsp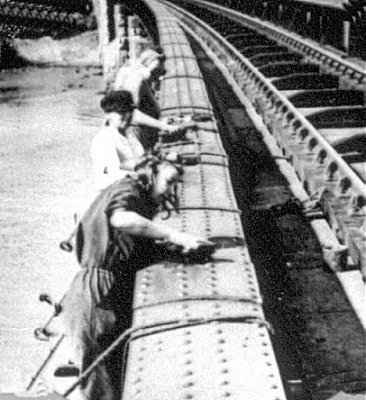 Scraping the rust off a bridge before repainting, c 1942.
&nbsp
"I was the smallest painter in the gang. We had to move ladders,
and mix our own paint which came in cans like milk churns.
We painted Queen's Road bridge, all we had was swinging irons hooked over
the girders with just a scaffold board to walk on; no scaffolding like now.
We painted Rye river bridge including the underside. There was a very high tide
overnight and we had to go and rescue the scaffold boards from down the river."
Mrs. "Titch" Breeds, Structures Painter, Hastings, SR.




---
On to the next page | Back to the Second World War index | Back to the main index
| Find out about the book |
---