THE SECOND WORLD WAR
GUARDS
---
&nbsp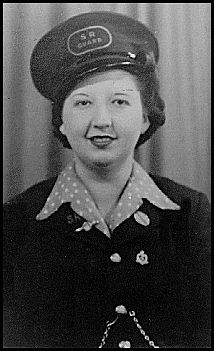 Edie Rowe, Guard at Hastings c.1945
Enemy action killed 170 SR staff and injured 746.
"We were given a little metal badge. On the back of it was a number.
I said, 'What's this in aid of?'
'Well, if you do get blown up on a train, we know who you are, you see.'"

Brighton Guard Louisa Jupp.

Brighton Guard Louisa Jupp.
&nbsp
"At Walsall, the male guards were not very keen on having women
working with them. They did not think us capable of doing their job,
but they got used to it after a while."
Enid Atkins Milnes, Guard, Birmingham.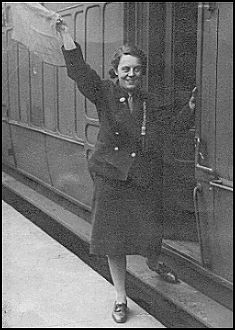 Enid Milnes sees her train away form Walsall station c.1944.
&nbsp
"The Labour Exchange sent me to be a lady guard. I did not believe
that I could do a man's job, but I proved myself wrong."
Joan Levick, Guard, Retford.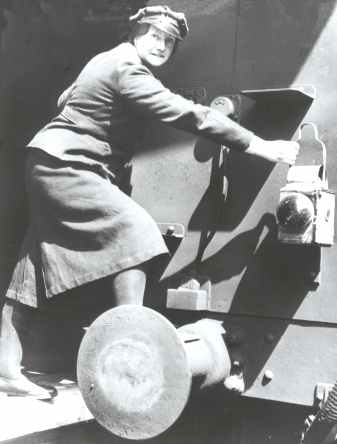 A guard placing the paraffin tail lamp on her train.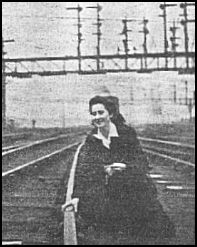 Miss Chapman, Guard at Manchester, demonstrates how to lay detonators, c.1944.
&nbsp
Lucy Best, Guard at Stirling, LMS c.1942.
&nbsp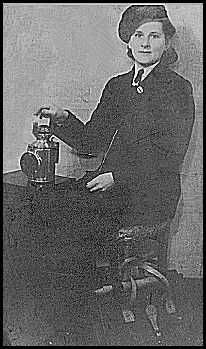 Lucy Best with lamp and kitbag, c.1943.
&nbsp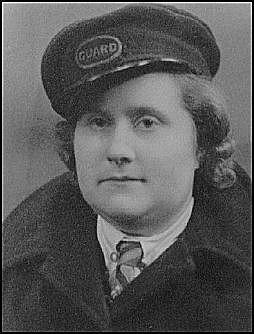 Clara Evans, Guard, Retford LMS, c.1945.
&nbsp
"I loved the job. When I clocked on duty, I'd have a chat with the fireman
and driver, check the paraffin tail lamp, take the weight and description
of each vehicle, and look to see that the emergency chains on each vehicle
had not been pulled. I'd check the brakes were acting correctly, and give
the tare weight to the driver, and enter it in my log book - also the engine number
and the driver's name. I used to climb on the engine, have my egg and bacon
cooked on the steel shovel in the firebox, also a brew of tea in my enamel pint can
which I carried everywhere with me. At night, at halts in the middle of nowhere
I would lean out of the guards' van window swinging a white light
to help the driver know exactly where to stop, to let the country folk off."
Violet Ridler, GWR Passenger Guard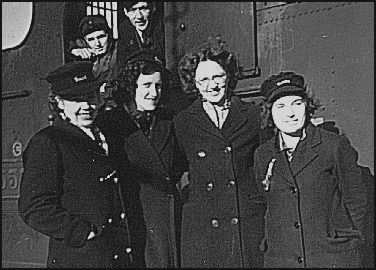 GWR Passenger Guards Violet Ridler, Yvonne Burridge and Phyllis Cooke c.1943.
&nbsp
---
On to the next page | Back to the Second World War index | Back to the main index
| Find out about the book |
---