THE SECOND WORLD WAR
GOODS PORTERS
---
Read goods porters' reminiscences

"It was a struggle lugging heavy mail-bags, milk churns,
enormous wooden packages, bicycles, pieces of machinery, perishables, livestock.
The barrows were very difficult to push and very hard to manoeuvre
especially backing them up to the guards' vans. We worked 18 different shifts,
8 to 12 hours, commencing different times, like 2 or 3am. The changeover was often
only 8 to 10 hours, in which time we eat, slept, washed, and
went back on duty having walked miles."
May Westmoreland, Porter at Sheffield LNER.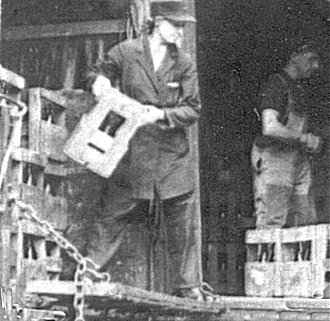 Women porters heaving beer crates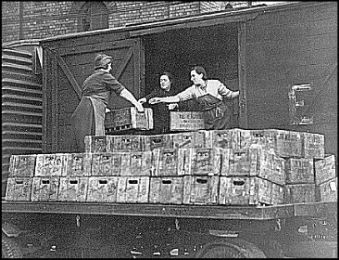 Goods Porters loading beer crates at Newcastle Forth Goods. 1942.
&nbsp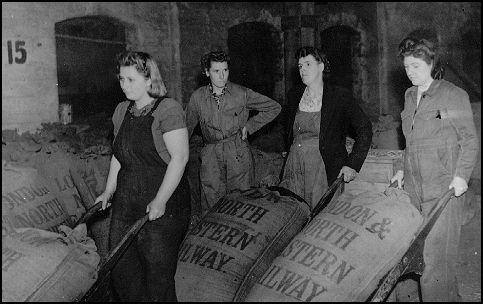 Goods Porters barrowing grain sacks, Leeds March Lane depot 1943.
&nbsp
"Two very strong ladies worked in the goods bay. I think they were sisters
and each weighed about 18 stones. They could lift anything. For a laugh
they used to lift two men off the ground: one in each hand."
Kathleen Hadfield, Warrington.




---
On to the next page | Back to the Second World War index | Back to the main index
| Find out about the book |