Footplate to Footpath

is a unique new book about the lost railways of the Isle of Wight.

With the aid of specially drawn maps and numerous "now and then" photographs, author Adrian Hancock reveals the often surprising locations and histories of nearly 40 stations abandoned in the countryside or hidden away amongst modern houses, shops, factories and road junctions; and tells you exactly what is left to be seen.

Although only twenty-one miles by thirteen, the island once boasted over 50 miles of track. Dedicated maps clearly show which roads to take to follow the lines and show the many parts of the old trackbed which have been converted to cycleways and footpaths allowing the reader to experience the train drivers' view whilst enjoying a country walk or bike ride.

Whether exploring by foot, bicycle, bus or car Footplate to Footpath will show you how to spot the tell-tale signs of the course of the railways through the countryside and will lead you to discover a fascinating collection of bridges, sites of level crossings, station masters' houses, tunnels, fragments of platform and even complete stations along the way; you will never look at the Island in the same way again.

You can also solve some mysteries such as, why is there a model signal gantry and the "End of the Line Café" in the grounds of a garden centre in Freshwater? This fascinating, station-by-station guide is indispensable for railway historians, tourists, ramblers, Isle of Wight residents and anyone keen to explore the industrial archaeology of the island.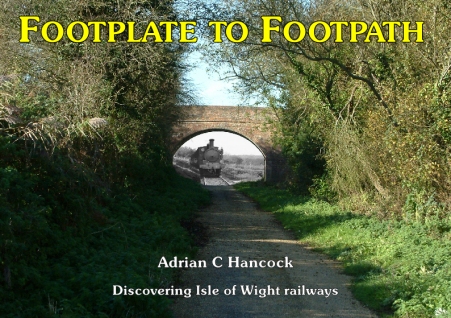 Footplate to Footpath by Adrian C. Hancock
Published by The Hastings Press, December 2010
We regret being unable to publish this as a paper edition.
---
Purchase the book on CD for £12

---
sample page
email us
home page
REVIEWS


I own a copy of most IOW railway books and I think this is one of the most interesting publications – especially as I used to live on the Island and thought I knew most of the "then &amp now" photo type locations - but now I have learnt a few more! For example: I didn't know the tunnel mouth of Shide Quarry or the north portal of the tunnel leading to Ashey quarry both still existed (there are current photos of both). The location maps highlight old track beds and present evidence of long disappeared railways and look particularly helpful for anyone not knowing the Island. I hope to be able to follow up with a few of the maps myself when I'm next over there. In addition to photos and text, each station is shown with an old track plan, plus its Ordnance Survey grid reference is detailed for anyone wanting to find its site.

As I only have a desktop computer, it is true that it is not as convenient to read as a traditional book but the individual pages from the book look good full size on my PC screen and the history text element doesn't need prolonged reading. The "eBook" is very easy to dip into or to page down a described railway line using a mouse wheel. Using "Ctrll +F" keys easily searches the whole book.

If you only have half an interest in Isle of Wight Railways or like viewing old IOW steam railway photos (some you will have seen before) then "Footplate to Footpath" should not be overlooked or ignored just because it is not a paper book.

Should it ever be reproduced as a traditional book then I would probably buy it again so that it can be carried. I therefore hope that there are enough of us IOW railway fans out there who have PC's and can enjoy "Footplate to Footpath" to enable sufficient funds to be raised to paper publish it for the wider world to read. Even so, if you are an Island fan and don't get it, then you are missing a treat. This "eBook" will add to your knowledge of Island railways, as it did to mine. The author has done a good job. David Mills