THE SECOND WORLD WAR
STATION STAFF
---
Read women porters' reminiscences

"Our duties were varied. We loaded the parcels truck and trundled it
to the platform then loaded the guard's van. Underneath the station
was a subway and two large antiquated hoists worked by water pressure,
each held one large 4 wheeled truck and one person. With a full load
of parcels one felt completely hemmed in and claustrophobic.
The walls of the hoists were tiled and constantly running with water."
Rose Eastwood, Porter at Stockport Edgeley.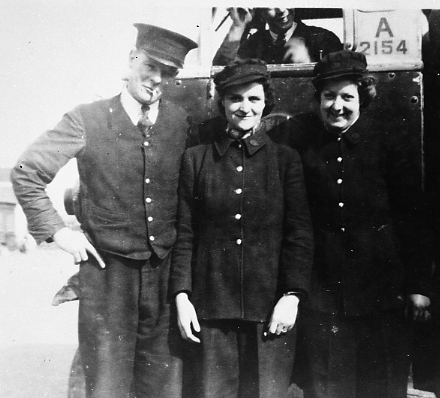 GWR porters Bessie Perry and Dorothy Ayres (aunt of poet Pam Ayres)

Parcel and luggage porter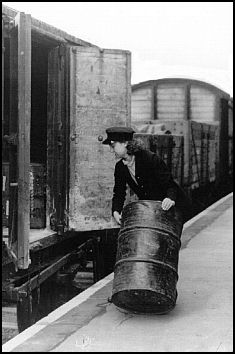 Joan Long, Porter-in-Charge, Hammerton LNER, c1942.
&nbsp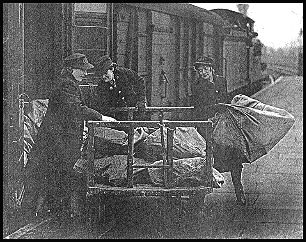 Porters loading mailbags, c1943.
&nbsp
"A lot of mailbags had to be loaded onto trolleys with great care
and piled ten layers high. If they were not firmly built up they fell off
in the mad run down the slope to the lift. It frightened me to death
those first few weeks thinking the trolley would run me over,
but we became very expert at it."
Kathleen Hadfield, Warrington Bank Quay.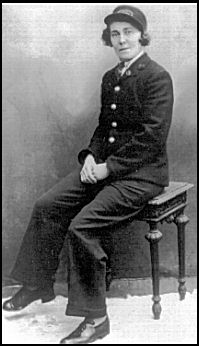 Ada Randall, Porter at West Worthing, SR, c.1942.
&nbsp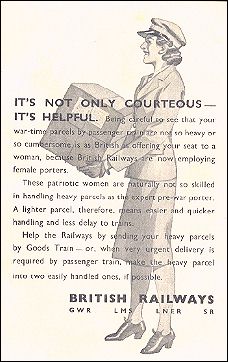 The Railway Gazette urges lighter parcels. 1941.
&nbsp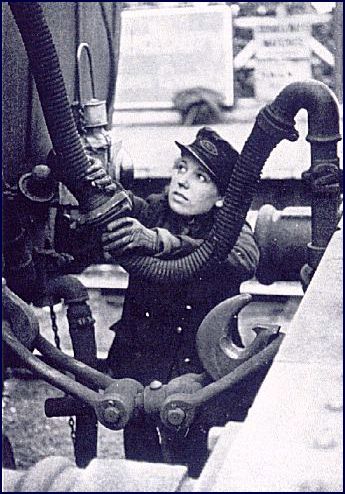 Miss Dale coupled and uncoupled trains at Connah's Quay,
a busy junction linking the LNER and LMS
&nbsp
"After assisting with passengers, parcels, carriage doors, etc
I have to attend to the uncoupling of the engine, running round of train...
At first this work was approached with a little nervousness, but dealing with
screw-shackles, vacuum brake and steam heating pipes have become almost
second nature to the women porters employed here."
Miss Dale, Porter/Shunter, 1943.




---
On to the next page | Back to the Second World War index | Back to the main index
| Find out about the book |
---