ELIZABETH BLACKWELL
(1821-1910)
Physician and author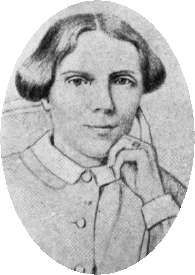 Described as a 'guiding star…to rebellious women everywhere', she was born near Bristol into a prosperous family that moved to the USA when she was eleven, she received a private education comparable to that of her brothers. In 1845 she decided to study medicine, although it was considered ridiculous, unfeminine and dangerous for women. She studied privately while sixteen medical schools denied her admission. She was eventually admitted to Geneva College in New York by accident: the professors thought it was a hoax. She met with hostility on campus, was barred from classroom demonstrations and the townspeople and her fellow students ostracised her. Despite all the difficulties and continual harassment, on 23rd January 1849 Elizabeth Blackwell became the first qualified female doctor in the modern world, ranking first in her class, above the 150 men who had taunted her.
She moved to Paris to study surgery, but the hospitals spurned her. Only a midwifery school would take her, and there she became infected with gonorrhoea in her eye, while treating a child. The eye was lost and her surgical career was ruined. Moving to London 1850, no doctor would employ, or let practice rooms to, a female doctor, so Dr Blackwell opened a one-room Dispensary for Poor Women and an infirmary. In 1859 she became the first woman on the British Medical Register, after which a new ruling excluded holders of foreign qualifications, specifically to prevent any more women. After a spell back in the USA training nurses for the Civil War, Dr Blackwell moved permanently to England, establishing a private practice and working as Professor of Gynaecology at the LSMW. At this time she joined the women's suffrage movement, attending meetings with Clementia Taylor . Her lifelong friends included Dr Jex-Blake , Florence Nightingale and Lady Byron.
In 1879, she leased Rock House, Hastings, a ten-room square house perched above the sea on the West Hill. Kitty (Kathleen) Barry moved in with her as servant, secretary, housekeeper and companion. Dr Blackwell turned her attention to writing books: The Human Element of Sex (1884), Pioneer Work in Opening the Medical Profession to Women (1895) and Essays in Medical Sociology (1902).
She wrote articles and letters to the local press about conservation, the environment, medicine, the East Hill railway and the tramways, attended public meetings about local issues such as alleviating poverty. She stood (unsuccessfully) for the Board of Guardians and fought (unsuccessfully) against Hastings Grammar School excluding girls from scholarships. In 1883 she purchased Rock House and two semi-detached houses in Dudley Road for her sisters Anna and Marian.
Elizabeth Blackwell Addresses Suffrage Meeting, 29/08/1883

Dr Elizabeth Blackwell, the first woman doctor of medicine in modern times and a resident of Hastings, chaired a meeting of the National Society for Women's Suffrage on Wednesday 29 August. The meeting took place in the Assembly Rooms above the recently-opened Queens Avenue arcade. The room was full, primarily to hear a lecture by Miss Muller on 'Woman, her Relation to Church and State'. Dr Blackwell made an opening address, saying she had always given her mind to the training of women, which she thought was a very important question that had kept most of her time, and, consequently had not left any to take up the suffrage question.
Dr. Elizabeth Blackwell died at Rock House in 1910 and a memorial service was held on 4th June at St Clement's Church, though she was buried in Kilmun, Scotland, simply because it was a place she loved. At the time of her death a total of 7,399 women had become licensed physicians and surgeons in the United States alone. The Blackwell Medal was established in 1949 and given to women with outstanding achievements in the field of medicine.
In June 1914, Hastings held a Pageant of Heroes. A huge procession of girls and women in their Sunday best greeted the national suffragist leader - Millicent Garrett Fawcett - at Hastings Station and proceeded to Exmouth Place, where more people had congregated, including a deputation of suffragettes. Mrs. Fawcett gave a speech and unveiled a memorial plaque. Nearly forty years later, Dr Effie Evers (1898-1983), wife of the Rector of Guestling, Mervyn S Evers (1888-1981), happened to upturn a white marble slab that lay in her pantry, which had been used by her predecessor (also called Evers, the successive vicars being brothers) for years for rolling out pastry. To her amazement she discovered it was a commemorative tablet inscribed to Elizabeth Blackwell, with just the barest amount of information and the Hastings Coat of Arms.This resulted in a flurry of letters in the press.
The riddle of how and why it came to be there is, as yet, unsolved. Perhaps it was the original one, and the inscription was later considered to be inadequate. One story is that is was removed for safe keeping during the First World War. The Guestling Tablet was donated to the Royal Free Hospital in London in 1953 where it was set into the archway to the Dean's office.
WAS ELIZABETH BLACKWELL THE FIRST FEMALE DOCTOR?

As Professor Eric Luft of Syracuse University has pointed out, although Blackwell was the first woman in the world to earn a regular MD degree from an accredited medical school by means of satisfying the standard requirements of a full course of study on the same terms as men, she was not the first woman to practice medicine. Women have been practising medicine, overtly or covertly, since ancient times. Nor was she the first in America. Harriot Kesia Hunt (1805-1875) practised for about twenty years in Massachusetts before being admitted to lectures at Harvard Medical School in 1850. She received an honorary MD from the Woman's Medical College of Pennsylvania in 1853. Dorothea Erxleben (1715-1762) was awarded an MD by the University of Halle, Germany, in 1754, after having been in medical practice for many years. She had studied medicine at home with her physician father. In 1753 three local male physicians had brought suit against her for practising illegally. In response, she cited a decree of Frederick the Great, which allowed both her and her brother extraordinary dispensation to take their medical examinations. Taking advantage of this document, she turned the lawsuit to her favour, won the degree, and returned to her practice. After Erxleben, several other German women claimed to have MD degrees, but in fact they were highly-trained midwives. Also before Blackwell, a few women obtained MD degrees by pretending to be men. The most famous is Miranda Stuart (1792?-1865), who, calling herself 'James Barry', gained her MD from the prestigious Edinburgh Medical School in 1812. After serving for many years as a high-ranking medical officer in the British army, her true sex was discovered only after her death.
Original plaque of 1914
Current plaque