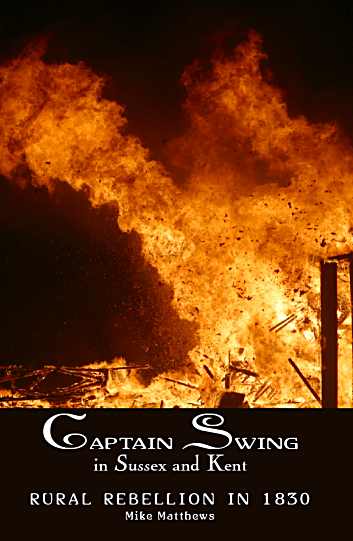 ISBN 1 904 109 136. 156mm x 234mm. 128 pages.

HOW TO BUY THIS BOOK

The book is currently out of print, but available as a PDF download for £4.99.
Click the Buy Now button to pay via Paypal.


CAPTAIN SWING IN SUSSEX AND KENT



The year is 1830.

A state of anarchy terrorises Sussex and Kent.

Panic-stricken landowners cower behind bolted doors.
Cottagers tremble for their lives
as farm machinery is smashed to smithereens.

Petrified farmers receive blood-chilling, anonymous letters,
threatening to roast them alive in their beds.

The search is on for the bandit leader

Captain Swing — Wanted: Dead or Alive!
---
"Impeccably researched." Kent Courier

"[The Swing Riots] are brought to life in a racy and well-researched narrative." Hastings Trawler

"Crisply written and a fascinating read." Sussex Express

"An intriguing slice of local history."The Brighton Argus

"Presents the untold story of rural class war in southeast England, in a style accessible to readers of all ages." Geoffrey Mead, University of Sussex